Article:

Operating railway infrastructure reliably and efficiently
When IT provides professional support for infrastructure through digitalisation, rail operations are made measurable and efficient, thus providing a framework for greater capacity and punctuality. The result is a modern digital production platform for rail travel.
Deutsche Bahn operates a railway network including more than 30,000 km of track as well as thousands of buildings and installations ranging from railway stations to power supply facilities. The efficiency and capacity of this infrastructure are key to achieving the targets set in the DB Group's Strong Rail strategy. The digitalisation of this infrastructure offers huge opportunities for further optimising the utilisation of all installations and facilities. We support Deutsche Bahn as a strong partner with interdisciplinary experience in IT and ICT projects with a particular focus on expanding the railway infrastructure.
Challenges for the railway infrastructure:
Boosting capacity and line capacity against a backdrop of increasing construction site density and heavy use of the railway network
Increasing the availability of infrastructure assets
Ensuring consistent data sources and continuous data flow
Dealing with disruptions in real time
"Digitalisation is the best lever we have to improve Deutsche Bahn's performance quickly. This is where we effectively advance our partners in the infrastructure environment and thus the railway."

Interconnected railway infrastructure
We have a pool of experienced contact persons with IT and infrastructure expertise for all issues relating to the digitalisation of infrastructure. We see to it that the railway infrastructure is made more pioneering, more powerful and more robust through digitalisation. Together we create new solutions for greater operational transparency in rail operations. In doing so, we improve not only the capacity but also the reliability of infrastructure assets, increase punctuality, and reduce operating costs in the long term. Optimised capacity management takes the impact of running and engineering on infrastructure and capacity into account.
Customised interconnection solutions for railway infrastructure: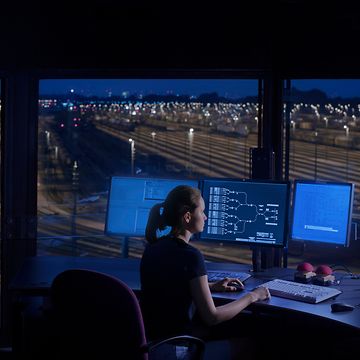 Interconnected buildings and installations
We support the digitalisation of the railway network, e.g. for the ETCS train control system and for digital signalling technology. We create IT solutions that support sustainable and profitable station operations and make rail travel more appealing to passengers, such as WiFi access at stations and on trains.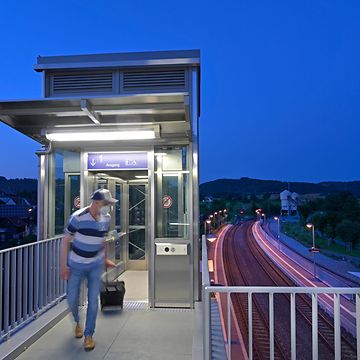 Automated monitoring and disruption notifications
Automated monitoring gives rise to solutions for monitoring and maintaining the infrastructure, such as more than 2,000 digitally monitored lifts and track monitoring with automatic alerts for obstacles and damage.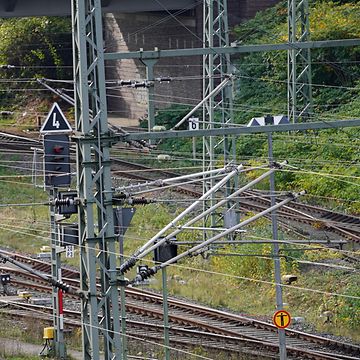 Reliable energy supply
DB Energie's IT infrastructure provides trains with a reliable supply of electricity and fuel to ensure stable operations. This also involves the expansion of electric mobility in Deutsche Bahn's power grid, including billing the users of the German railway infrastructure.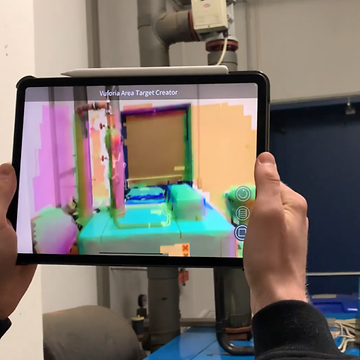 Digital support for design and construction
Building information modelling (BIM) allows a digital twin of the infrastructure to be created. This digital representation of the physical infrastructure facilitates both analyses and simulations of data and processes. Sensor data and data recording systems allow predictive maintenance to prevent failures and save costs through optimised maintenance intervals. With the right asset management solutions, assets, real estate and installations are designed and managed along the rail line. In this way, DB resources can be organised efficiently in the long term. Geographical information systems (GIS) support the design process.
We work with the DB rail infrastructure companies to design IT support and interconnected technology for the Deutsche Bahn infrastructure.
If you have any questions or would like to discuss railway infrastructure digitalisation, please get in touch.